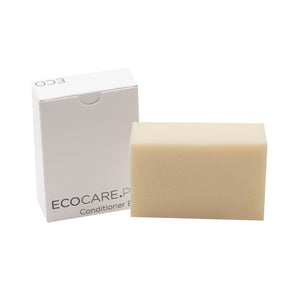 Our Conditioner Bars are made out of all-natural ingredients and come in plastic-free packaging, which makes them the perfect sustainable alternative to the regular conditioners which are sold full of chemicals and plastics. Your hair will feel the difference and you will see it as well.
Cocoa butter to heal and soften your hair
Shea butter for moisturizing
Coconut oil for hair growth
Cetyl alcohol to soften your hair and provide slip to detangle your hair
Btms-50 to conditions your hair
Panthenol vitamin b to improve damaged hair
Rosemary essential oil to prevent graying & dandruff
Orange essential oil vitamin c with bioflavonoids to promote the hair growth
Beeswax to smoothen and moisturize your hair
Materials: Packaging: Cardboard

Ingredients: Cocoa butter, Shea butter, Coconut oil, Btms-50, Panthenol vitamin B, Rosemary EO, Orange EO, and Beeswax.
Capacity: above 70g
Care Instructions: Simply lather up in the shower and run the bar through your hair. Leave in for 2-3 minutes and wash out. 
Made in: Metro Manila, Philippines
We do accept resellers, just meet the minimum order amount. For more info, just message us or check out our wholesale section.
FREE SHIPPING OVER ₱2,000

SECURE ONLINE PAYMENTS

HASSLE-FREE RETURNS