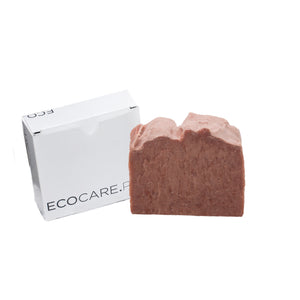 Soaps are usually alkaline. Well, usually...We created an all-natural, PH-Neutral soap. This means it won't change your lactobacilli (good vagina bacteria) and stop bad bacteria which would cause odor or irritation.
Infused with Lavender Essential Oil, anti-inflammatory, and Tea Tree Essential Oil, anti-fungal.

Materials: Packaging: Cardboard

Ingredients: Olive oil, Castor oil, Coconut oil. Apple cider vinegar, Rose clay, Lavender & Tea Tree Essential Oil.
Capacity: above 90g
Care Instructions: Wet body or hands and rub the bar on your body or hands until it lathers.
Made in: Metro Manila, Philippines
We do accept resellers, just meet the minimum order amount. For more info, just message us or check out our wholesale section.
FREE SHIPPING OVER ₱2,000

SECURE ONLINE PAYMENTS

HASSLE-FREE RETURNS